Subway-riders in Seoul can go grocery shopping on their way to and from their trains. Strap-hangers walk by images of grocery store shelves, use their mobile phones to pick products off the shelves, and have them delivered to their homes. It's part of an innovative experiment in mobile marketing by international retailer Tesco.
While little-known in the US, Tesco is the third largest retailer in the world. It's a global grocery and general merchandise retailer headquartered in England, with stores in 14 countries.
Tesco is a relative newcomer to South Korea. It started there in 1999 as HomePlus, in a joint venture with Samsung, and now has about 400 stores employing 25,000 staff. It's second in the marketplace, with fewer stores than leader E-Mart.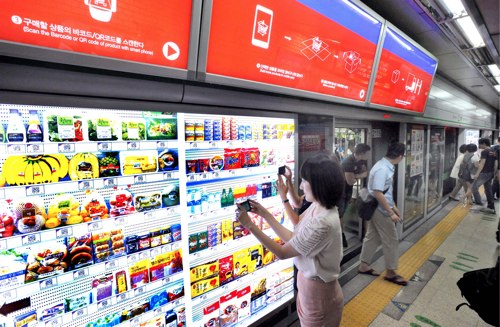 To win new customers, Tesco invaded the busiest place in Seoul: the Seonreung subway station. Tesco posted life-sized pictures of store racks. When consumers walk past the images, it's like passing through an aisle of a supermarket. Beneath each product, there is a QR code that customers can scan using the HomePlus app. Shoppers have a choice of five hundred items, including milk, fruit, pet food, and stationery; the merchant only made available the most popular SKUs. Delivery is same day, if ordering is complete by 1 p.m.
The virtual store was a marketing success. It helped Tesco grow to No. 1 in the online market. The number of registered users grew by 76 percent. Online sales tripled in three months.
The life-sized pictures of shelves were eye-catching, but not necessary. The app can be entirely self-contained, making online ordering possible from everywhere.
Still, the shelves provide advantages. They're a good way to get shoppers used to mobile buying. Also, they spur sales, because seeing is remembering, and shoppers seeing an item on the shelf are more likely to remember they need it at home.
But the foremost benefit of the virtual store is the "wow" factor that led to publicity for the campaign. Tesco's video (below) got more than 2 million views on YouTube; media outlets including Wired and The Wall Street Journal covered the story; and the Android app was downloaded by more than a half-million users.
US and European marketers looking to replicate the success need to be careful. South Korea is different. It's among the most hardworking nations; long hours at the workplace leave little time for grocery shopping. Smartphone penetration is higher than any other country in Asia/Pacific, even Japan. One in every six South Koreans uses a smartphone. Samsung and LG are both based there and have flooded the market with Android phones. These factors led to the campaign being well received.
What do you think? Are virtual shops the wave of the future? Can this business model succeed outside South Korea?
— Talha Khalid

has been practicing and teaching technology, management, and supply chains for more than a decade.
The CMO Site is an executive social network that provides CMOs and other marketing executives from the world's leading organizations with a real-time, online venue where they can convene to discuss how they're delivering on the most critical marketing priorities. Join us!