Email marketing and Facebook command the bulk of more marketers' budgets than other channels, followed by Web and TV advertising, according to the latest unscientific poll on The CMO Site.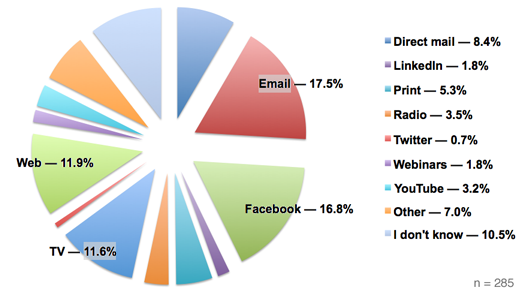 In what marketing channel are you spending
the largest part of your budget this year?
A few months back we discussed a Marketing Sherpa survey that asked a slightly different question. That survey was about the momentum of spending in marketing shops, and this one is about the magnitude. (The categories in the two polls do not correspond precisely.) The older survey found that spending was projected to increase most strongly for online media: Website, search advertising, social media, email, and online display ads.
We see similar patterns in the current poll, with email, Facebook, and the Web taking the top three slots in terms of the numbers of shops spending the most in those channels. TV advertising was fourth, in line with Mitch Wagner's post a couple of weeks ago arguing that CMOs are falling in love with old media once more.
In terms of raw spending, eMarketer expects TV advertising in 2011 to be more than twice as large as all of digital; and by 2015, TV spending is projected still to have the advantage over digital by a factor of 1.5. The Strata survey is in good agreement with this 2011 estimate.
One novel result in The CMO Site survey is that far more of you say the bulk of your spending is going to Facebook this year (16.8 percent of respondents) than say the same about LinkedIn (1.8 percent) or Twitter (a mere 0.7 percent). It is possible that a majority of respondents represent B2C marketing efforts; the poll did not distinguish. There is still a presumption that Facebook is a more appropriate medium for B2C than for B2B. But a recent blog post here by Nancy Shapira-Aronovic argued that B2B marketers can't afford to ignore Facebook. Last week's poll suggests that the marketers who frequent The CMO Site have internalized this admonition.
The next largest marketing channel after the leaders (and after "I don't know") is direct mail at 8.4 percent, followed by print at 5.3 percent. These venerable media are still out ahead of YouTube (online video marketing), at 3.2 percent. LinkedIn, Webinars, and Twitter bring up the rear of the list. "Other" garnered a respectable 7.0 percent. What channel wasn't mentioned -- outdoor billboards?
Please visit out current poll -- you'll see it over there to the right. It asks what technology will dominate your mobile marketing efforts over the next 12 months. For details on all of these mobile approaches, see our just-concluded CMO University course on mobile marketing.
— Keith Dawson


, Senior Editor, The CMO Site
The CMO Site is an executive social network that provides CMOs and other marketing executives from the world's leading organizations with a real-time, online venue where they can convene to discuss how they're delivering on the most critical marketing priorities. Join us!