Ad spending rebounded strongly in the first quarter of 2011, but digital spending stalled, as agency customers were concerned about the ROI of digital marketing and integration of digital into the traditional mix, according to a survey.
TV commercials were the primary focus for 45 percent of ad agency customers. Internet and digital was the primary focus for 23 percent, according to a quarterly survey by Strata Marketing, a provider of media buying and selling software.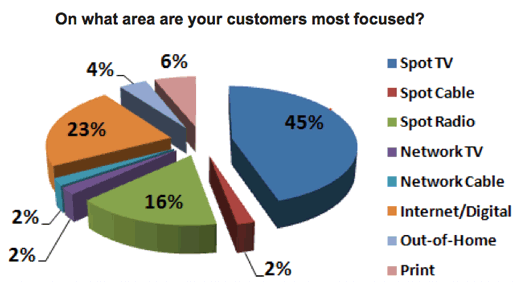 In the survey, 102 ad agencies were asked to look forward at what their marketer customers were asking them to provide.
The main news was that ad spending was continuing a strong recovery from 2010, with 77.5 percent of respondents indicated that their customers are either increasing budgets or keeping them steady.
Within the 23 percent primarily focused on digital, interactive spending went most strongly to display ads (76 percent of agencies) and search ads (57.3 percent), with social ads falling to third place at 56.3 percent (vs. 61 percent in the previous quarter). Mobile advertising ranked a distant fourth, at 20.8 percent.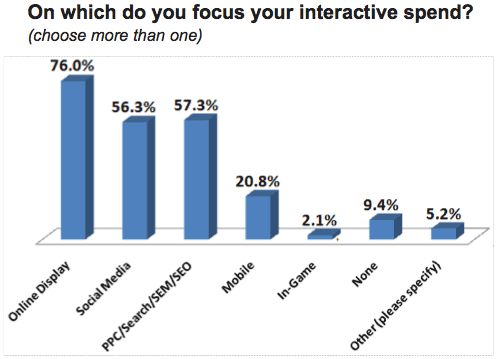 Digital measuring tools need to get better. In response to the question "In general, are current digital measurement tools effectively meeting your campaign needs?" 51 percent of ad agencies responded in the negative.
Likewise, the question "In general, do you feel that your clients understand the value of digital?" elicited a 59 percent negative response.
Strata CEO John Shelton said, "Agencies are being actively challenged by clients to provide true ROI figures, but they don't have the tools to fully report digital and traditional advertising results together. Agencies are also struggling with selling certain digital advertising to clients, as most are currently unimpressed with the reach of such new avenues as location-based advertising, iAd, and Google TV."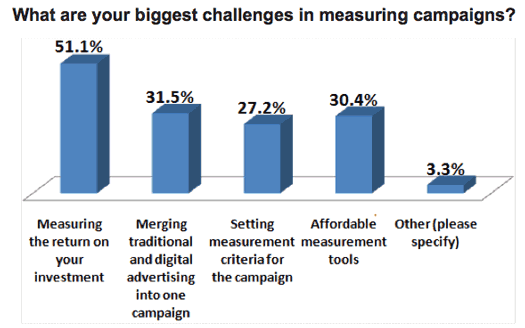 Strata provides a tool for measuring the effectiveness of campaigns: Ambit, introduced just two months ago, which claims to be able to monitor multi-channel marketing programs with an unlimited number of metrics.
IBM, which sponsors The CMO Site, also offers several marketing analytics tools. However, there aren't many such products on the market so far. Perhaps when the VC money flooding into marketing technology companies has borne fruit, ad agencies will find some relief on the price front.
Strata's characterization of the barriers facing digital adoption accords with the results of a survey conducted by SocialMediaExaminer.com, which found that the two most pressing questions on marketers' minds are "How do I measure the effect of social media marketing on my business?" and "How do I integrate and manage all of my social media marketing activities?" (Stay tuned here on The CMO Site for a full wrapup of that survey.)
— Keith Dawson


, Senior Editor, The CMO Site
The CMO Site is an executive social network that provides CMOs and other marketing executives from the world's leading organizations with a real-time, online venue where they can convene to discuss how they're delivering on the most critical marketing priorities. Join us!