Social media is gaining popularity in the supply chain, but it's still "far from widespread," according to a recent study.
IDG Research Services and marketing and PR agency Kemp Goldberg Partners sought to understand how supply chain customers use and perceive social media when dealing with their partners.
"Current adoption of social media for use in the supply chain is relatively low, and is more often used as a method of community participation as opposed to replacing or augmenting traditional CRM activities," according to "Research Study: Social CRM in the Supply Chain," based on research conducted in the fall and released this month.
Customers are interested in using social media to communicate with suppliers. One key inhibitor is the willingness and ability of supply chain vendors to engage their customers through social channels, the report says.
Customers seem to be focused primarily on mainstream services as well as private communities, vendor wikis, and blogs. Vendors might start creating a corporate presence on Facebook, Twitter, LinkedIn, and perhaps targeted user communities, to start conversations with their customers.
The findings:
Only 40 percent of respondents use any social media site or service.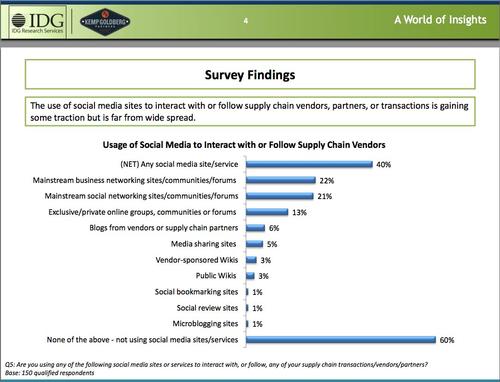 For those who are using social sites, Facebook leads (57 percent). That seems surprising at first, in a business-to-business context, but the reason for that answer becomes clear when you look at the question asked: "Which social media sites do you regularly use or visit for personal and/or business use?"
Next most popular are LinkedIn (30 percent) and Twitter (15 percent).
Among the barriers to adoption: Some 26 percent who aren't using social media say it's unnecessary and without benefit. Other reasons: Customers have their own system, use email or direct contact to communicate (13 percent), or are concerned about classification, confidentiality, and security issues (10 percent).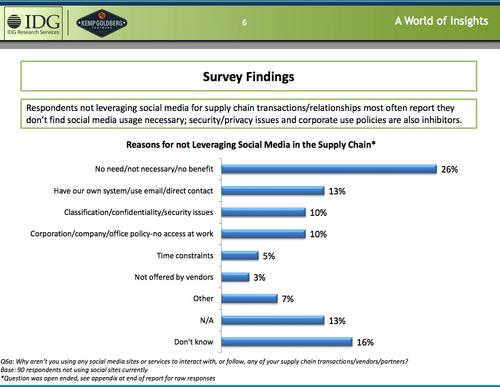 Most respondents not using social media in supply chain relationships say they'd like to if it became available (57 percent). But adoption wouldn't be immediate: Only 24 percent said they'd adopt in less than a year.
Researchers asked several questions of respondents who are not now using social media for the supply chain, but receptive to doing so in the future. They were asked which media appealed to them most. A plurality said mainstream business networking sites, communities, and forums (37 percent) or exclusive, private online groups, communities, or forums (37 percent). These respondents said they'd like to be able to use social media to stay on top of industry trends (45 percent), track the status of shipments and deliveries (43 percent), obtain pricing (39 percent), and more.
Current users of social media in the supply chain are more focused on staying on top of industry trends (62 percent), an area also interested in engaging with experts or industry peers (45 percent).
Some 58 percent of respondents say they're totally unaware of how their primary supply chain vendors are using social sites, if the vendors are using them at all.
Good news for lagging suppliers: Staying off of social media doesn't seem to have damaged their brand. A majority of respondents, 83 percent, said the absence of opportunities to interact with partners through social media doesn't hurt the partner's reputation. And only 33 percent of respondents said the ability to interact with partners through social media would positively influence the partners' reputation.
What do you think? Do B2B companies need to be on social media? Let us know.
Related posts:
— Mitch Wagner




, Editor in Chief, The CMO Site