While email is declining in popularity for interpersonal communications, it's still consumers' preferred channel for communicating with brands.
"In short, if you're looking for a solid foundation for your direct marketing communications look no further than email -- because it's where the vast majority of consumers are willing to engage brands," according to the 2012 Channel Preference Survey (free download, PDF, registration required), part of ExactTarget's 14-part Subscribers, Fans, and Followers series.
Consumer preference for email as a personal communications channel has dropped 21 percent since 2008, while the preference for text messaging is up 20 percent and for social media 10 percent. But consumer preference for receiving permission-based marketing through email has increased 5 percent since 2008. Some 77 percent of consumers prefer to receive permission-based marketing communications through email, while only 5 percent prefer texting and 6 percent prefer social.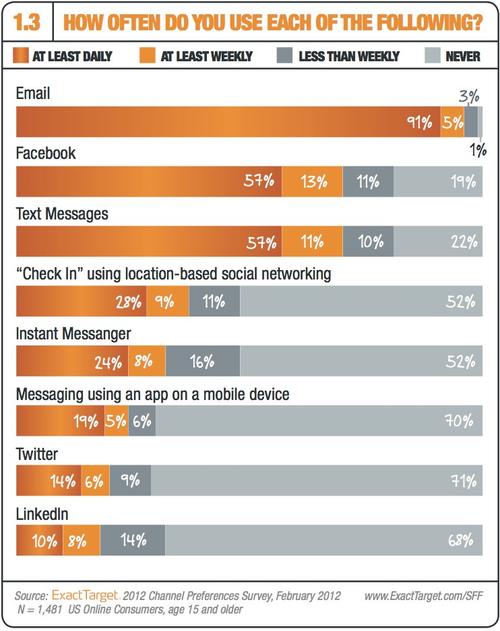 That's not to say other channels are off limits. Consumers use several criteria to determine how to communicate with brands. "They still draw hard and fast lines about when and where marketing communications are appropriate," the report says. Among the criteria:
Immediacy: If consumers believe they need to receive a message right away, they'll let brands communicate over text messaging, phone, or instant messaging through social networks. "If your message is imperative (from the consumers' perspective) and you have permission, these 'urgent' channels will perform best. If not, you should consider moving communications to less urgent channels such as email or direct mail."
Parking: If consumers think they'll want to archive and access messages later, email is a good channel for its ability to bridge smartphone, tablet, and PC.
Privacy: If consumers want to keep their brand relationships on the downlow, they go to channels with an established track record of protecting conversations, text, telephone, and mail. "Where privacy is not a concern, consumers happily embrace social channels such as Facebook and Twitter that provide them with the public opportunity to share, vent, or engage," ExactTarget says. "This isn't to say that consumers don't send direct messages through Facebook and Twitter, just that they proceed with greater caution as these channels are best known for their more public communications."
Formality: For tasks such as job hunting, consumers prefer contacting a Website first, followed by email contact or a phone call.
Initiation: Permission trumps everything else. Whatever channel the consumer uses to start the conversation is by definition appropriate. But in some cases that conversation might need to move to another platform -– for example, a private discussion that starts on Twitter but moves to email.
ExactTarget warns brands against sending marketing messages along the same channels consumers prefer for personal messages. "That is because consumers don't truly consider brands to be their friends," ExactTarget says. For example, text messaging is the most popular communication channel for people aged 15–34 and second for those over age 35, but people don't want to hear from brands on text messages.
"Absent an invitation from consumers to engage through social channels, marketers should focus their efforts on optimizing communication through channels where consumers do want to hear from them," ExactTarget says.
ExactTarget looked at more than eight channels to determine which consumers preferred for brand interaction. These included direct mail, email, Facebook, LinkedIn, mobile push notifications, text messaging, telephone, and Twitter. They surveyed 1,481 respondents between January 27 and February 1, 2012.
ExactTarget also looked at the future of direct mail, consumer online purchasing preferences, channels for financial and travel alerts, customer service queries, and more. It's worth downloading and reading in full: 2012 Channel Preference Survey
— Mitch Wagner




, Editor in Chief, The CMO Site