When normal people quit their jobs, they have cake with their co-workers. A departing middle manager at Goldman Sachs had a different idea, using the pages of The New York Times to deliver a blistering attack on his soon-to-be-former employers' predatory practices.
The bomb-throwing exit letter from Goldman ex-ecutive director Greg Smith follows on the heels of similar diatribes from ex-employees at Google and Yahoo earlier this week.
"Why I left" letters are becoming a fad -- or, in Internet jargon, a "meme." They've even spawned at least one parody: "Why I am leaving the Empire, by Darth Vader."
"Why I left" letters can do terrible damage to a brand, leveling, as they do, accusations from a credible source that a once-great company has betrayed its roots. You can see the evidence on the Internet: As of Wednesday afternoon, the Goldman story is second from the top at Google News with 512 articles, and TweetStats placed the incident at the root of two of the top 10 Twitter trends of the day.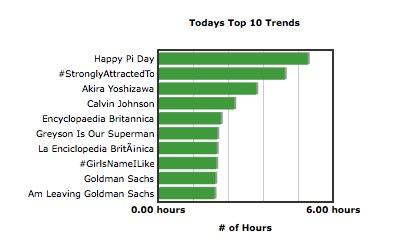 Trending tweets include this, from a man who knows scandals and corruption:
A couple of additional choice tweets:
What can marketers learn from the incidents?
Everything a company does is marketing. Everything that a company does affects how the brand is perceived, affecting, in turn, demand for its products and services. That's especially true in the age of social media, where every employee and customer potentially has an amplifier as powerful as The New York Times.
Marketing now includes corporate culture, customer relations, leadership, ethics, HR, and even the language employees use speaking with each other, as we can see in the Goldman Sachs letter.
Marketing is no longer an isolated business unit, concerned only with brand awareness, reach, and other arcane statistics. It's a strategic part of the company direction, because everything the company does reflects on its brand.
Disgruntled employees are your brand's biggest enemies. "The Loyalty Effect" is the principle that if you treat employees well, they'll give customers better service, which leads to greater customer loyalty and improved profits.
The converse is also true: If companies treat employees badly, those employees treat customers badly, which tarnishes the brand and reduces demand for the company's product.
Lightning can strike at any time. Nobody at Goldman Sachs woke up expecting to see himself ripped publicly and prominently. Certainly not PR chief Richard Siewert, who was reporting for his first week of work. Neither did anybody at Google or Yahoo. For that matter, BP wasn't expecting an environmental disaster in the Gulf of Mexico.
The worst brand disasters can't be predicted, so marketing needs to be ready for them at any time. Expect nasty surprises. Run simulations of various scenarios. Your PR team should always have senior staff on call and ready to work the phones, email, and social media to get your message out.
What do you think brands need to learn from the Goldman Sachs exit letter and similar statements?
Related posts:
— Mitch Wagner



, Editor in Chief, The CMO Site