Google+ is growing fast, with a thriving community and brisk discussions. And yet, marketers aren't paying much attention to it, and a lot of smart people think it's a failure. What's up with that?
Compete Pulse has been measuring traffic to Google+ domains since its launch in June. The results show impressive growth, with 20 million unique visitors in December, 50 million visits, and 200 million page views: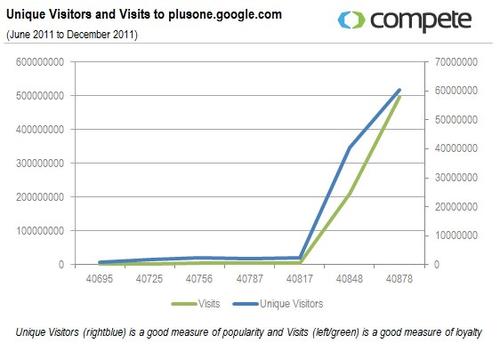 That gives Google+ nearly half the unique visitors of Twitter, which saw 40,411,065 unique visitors in December, says Compete Pulse.
The report matches my anecdotal observations. I log in to Google+ a couple of times a day and see a lot of activity. My account has 2,654 followers; my Twitter account took a couple of years to reach that level.
And yet, marketers don't give Google+ a lot of respect. Brands aren't active on Google+ (with some execeptions: for example, H&M, Pepsi, Starbucks, Coca-Cola, and Ford). Google+ doesn't come up in marketing discussions; I attended the Online Marketing Summit this week and only heard Google+ mentioned once, and that in a discussion where panelists said they weren't paying a lot of attention to it. And when Google+ comes up on The CMO Site message boards, it's usually from community members expressing disappointment.
So why the disconnect?
Google+ has a perception problem, says the Altimeter Group's Jeremiah Owyang. A journalist asked him this week, "Does anyone even go there anymore? It seems like a wasteland." The Altimeter Group's study found not a single Super Bowl ad by the world's largest brands mentioned Google+, Owyang said.
And Google+ is the subject of a scathing photo-cartoon, which has attracted 11,000 views, suggesting "Google+ is filled with Google employees -- and that's about it," Owyang says.
Google+ has several image problems, he notes. Google+ in the news has been overshadowed by the Facebook IPO. Google+ lacks the full backing of brands, with substandard brand pages providing limited apps and gaming support, compared with Facebook. "Brands are also skittish to open yet another conversation area to manage and engage in, when resources are low." Google+'s growth, while strong, is still dwarfed 16:1 by Facebook.
Indeed, Owyang lays out why The CMO Site hasn't been active on Google+. We have a brand page, but we haven't devoted much attention to it. Compared with Facebook and Twitter, it's hard to post to Google+, and Google+ lacks the management and measurement tools that brands need.
To win, Google+ needs to build its public perception as well as the platform. "They must not only double down on building a successful platform for users, brands, and their business model, but must also do proactive media, press, and influencer outreach," Owyang says.
What do you think of Google+? What would it take for you to pay more attention to it as a marketing platform?
Related posts:
— Mitch Wagner



, Editor in Chief, The CMO Site
The CMO Site is an executive social network that provides CMOs and other marketing executives from the world's leading organizations with a real-time, online venue where they can convene to discuss how they're delivering on the most critical marketing priorities. Join us!