CMOs are increasingly responsible for going beyond traditional marketing goals and demonstrating that marketing matters to business objectives, according to a study of CMOs conducted by IBM and released this week.
For its study, "From Stretched to Strengthened: Insights From the Global Chief Marketing Officer Study," IBM interviewed 1,734 CMOs worldwide on the problems and goals they care most about. IBM, which sponsors The CMO Site, delivered a Webinar presenting the survey results on Tuesday. Register here to watch the replay of the 48-minute Webinar and receive a free copy of the 70-page report.
According to the report:
At one stage, it was enough to point to advertising recall, brand perception or website traffic. But CMOs are under increasing pressure to provide quantifiable evidence of how their marketing expenditure is helping the organization achieve its goals.

If they are to use their budgets as wisely as possible, CMOs also need to know which initiatives deliver the best returns. In other words, they need to know what to stop investing in, as well as what to ramp up.

CMOs are well aware they will have to be much more financially accountable in the future. In fact, 63 percent of respondents believe marketing ROI will become the most important measure of success over the next three to five years.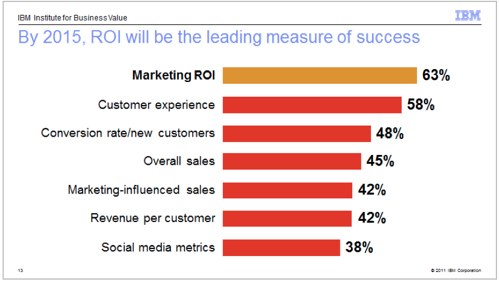 That's borne out in CMO interviews conducted by IBM: "The success of my role is far more about analytics and technology than it is about hanging out with my ad agency, coming up with great creative campaigns. We must increase campaign ROI," Rob Colwell, Executive Manager, Commercial and Marketing, Qantas Frequent Flyer, told IBM.
But only 44 percent of respondents feel ready to manage the increasing importance of ROI, according to the report. That's a problem even in outperforming organizations. "It's difficult to measure the ROI of our marketing effort because we don't have the right tools to provide us with the analysis," an electronics CMO in Belgium told IBM. An industrial products CMO in the United States agreed. "Marketing ROI is the Holy Grail... We're not there today, and we're trying to find the formulas to figure this out."
To identify the right metrics and use them accurately, many CMOs will need to work with the CFO and other colleagues in finance, IBM said. They'll also need to provide financial training of their staff and recruit marketers with strong financial skills.
CMOs will also have to broaden their own responsibilities to deliver the marketing returns required, IBM said. They're going to have to have significant influence over all of the so-called "four Ps" -- promotion, products, place, and price -- and that's not happening today.
CMOs told us they exert a strong influence over promotional activities such as advertising, external communications and social media initiatives. But, in general, they play a smaller role in shaping the other three Ps. Less than half of all respondents have much sway over key parts of the pricing process, for example. Similarly, less than half have much impact on product development cycles or channel selection.
Are you feeling increasing pressure to go beyond traditional marketing results and deliver business ROI? What are you doing about it?
— Mitch Wagner



, Editor in Chief, The CMO Site
The CMO Site is an executive social network that provides CMOs and other marketing executives from the world's leading organizations with a real-time, online venue where they can convene to discuss how they're delivering on the most critical marketing priorities. Join us!